Here at eleven2 we listen to what our customers need. For some time now, we've been using SSD acceleration on our hosting servers, and it's worked wonderfully. Now we're taking the next step and offering pure 100% SSD Hosting. One thing we wanted to make sure was that not only we were offering the extra speed that the SSD's would bring us, but also reliability. We spent some time in Research and Development to decide which SSD's to use, along with which RAID cards would be controlling them. There were no expenses spared here, everything we're running is Enterprise ready and Wow, it's fast!
USA Data centers
Los Angeles, CA | Dallas, TX
Europe Data Center
Amsterdam, EU, Netherlands
ASIA Data Center
Singapore, ASIA
The biggest performance gains using SSD hosting are seen with dynamic driven web applications. WordPress, Joomla, Magento, PrestaShop and other popular scripts make large use of database queries. Database queries are quick reads and writes of data, and this is where SSD's shine. Database performance on SSD hosting is up to 1000% faster in comparison to HDD hosting. In the end, this means a faster loading website, and studies show faster websites receive significantly more sales and more return visitors!
You have questions?
We have answers!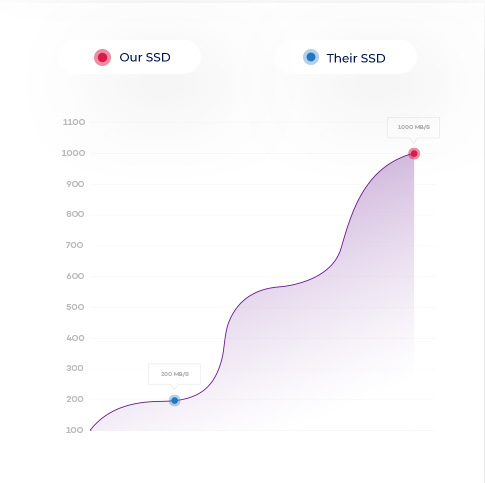 Blazing Past
The Competition
When we were designing these servers for SSD hosting, we wanted to offer the fastest speeds we could for our customers. We took a look at the competition and ran some tests. We were not impressed! We knew we could do better, and we stepped up our game. We are using 12gb/s state-of-the-art Avago RAID cards, with Samsung Enterprise drives. To make sure speeds never slow down, and reliability is at its maximum, we have configured our array in a RAID10, and are utilizing Over-Provisioning. These servers have the fastest I/O we have seen in the hosting market.